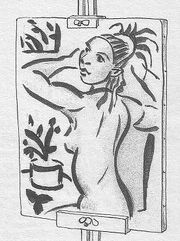 First wife of Adrian Mole, and mother of William (Wole) Mole, she is Nigerian.
Introduced near the end of Adrian Mole: The Wilderness Years, Jo-Jo is described as a tall, curvaceous, and stunningly beautiful Yoruba woman. She wears in hair in beaded plaits which rattle when she walks, and is a talented painter who specialises in portraits. In her early 20s, she comes to Britain to study Art at St. Martin's College, London. We later learn that Jo-Jo is in fact the daughter of a tribal chief, that her family are considerably wealthy.
She meets Adrian when she gains employment as a waitress at Savage's, in March 1992. Adrian, at that time, was heartbroken over losing his girfriend Bianca, and Jo-Jo immediately senses his pain, befriending him and encouraging his literary efforts. They correspond while he is staying at the Faxos Institute, in Greece, and she is waiting for him at the airport when he returns. This is presumably when they become romantically involved.
In the short story Mole Cooks His Goose, set the following Christmas, Adrian refers to Jo-Jo as his fiancee.
Their wedding is retroactively described in Adrian Mole The Cappuccino Years and Adrian Mole: Diary of a Provincial Man. Jo-Jo wore a traditional tribal dress, including a turban, in which she towered over Adrian. Pandora Braithwaite wished Jo-Jo "Commiserations", which she hastily corrected to "Congratulations." An embarrassing incident occurred on the wedding night: Adrian could not unfasten the cord of his pyjama trousers, and Jo-Jo was forced to cut it with a penknife, causing her husband to scream.
By the actual time of The Cappucino Years (April 1997), however, Jo-Jo has divorced Adrian and moved back to Africa. She cites Adrian's pettiness, his resentment that she has a degree and is 4 inches taller than him, his dislike of African cuisine and repeated cancellations of a visit to her family, as the reasons for their breakup. Their little son, William, remains with Adrian for the next five years. Pauline Mole is disgusted with her son for allowing such a wife to slip through his fingers, saying "You'll never get another woman in the same league as her... she had brains, beauty, money, talent."
Jo-Jo eventually marries again. Her new husband is named Ephat Mapfumo in Diary of a Provincial Man, and described as a graduate military officer, a musician and an author. In Adrian Mole and the Weapons of Mass Destruction, however, he is called simply Wole. William later goes to live with her in Nigeria, where he changes his name to Wole Mole.
Community content is available under
CC-BY-SA
unless otherwise noted.