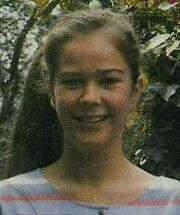 Pandora Louise Elizabeth Braithwaite (born 1967) was Adrian Mole's first girlfriend and the love of his life. She is academically brilliant and a gifted linguist, later becoming a Member of Parliament and junior minister in Tony Blair's New Labour government and being featured as one of Blair's babes.
Early Life
Edit
Pandora is the only daughter of Ivan Braithwaite and Tania Braithwaite. She first moves to Ashby-de-la-Zouch, Leicester, and into Adrian's life, in January 1981. Adrian falls in love with Pandora when they sit next to each other in Geography at school. To him, she is the embodiment of adolescent sexual and romantic obsession. Pandora also has a short relationship with Nigel Hetherington, and later one with Bruce Henderson (Brain-Box Henderson). Adrian is her long-term teenage boyfriend, despite a number of break-ups, and she swears she will always love him; however, she never consents to actual sex with him. In later years she comes to regard Adrian with purely platonic affection (or sometimes, with contempt), but he remains permanently enamoured of her.
Pandora has a pony called Blossom.
Oxford Years
Edit
After acquiring her A-levels, Pandora goes on to study Mandarin, Russian and Serbo-Croat at Oxford University. She graduates with a double first and marries her first husband, Julian Twyselton-Fife whilst staying on to do a doctoral degree. The marriage is only one of convenience, as Pandora believes that "first marriages should be gotten over with quickly;" Julian prefers his own sex, while Pandora continues to have a series of relationships with physically or mentally powerful men, most notably bodybuilder Rocky Livingstone and linguistics professor Jack Cavendish. We are never told when (or if) Julian and Pandora actually divorce. She also assists Barry Kent with his literary career, inviting him to dine at her college and recite his poetry to the undergraduates.
Political Career
Edit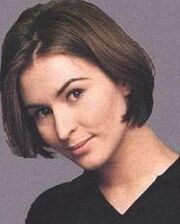 Pandora falls out of favour in 2003, after opposing the invasion of Iraq, and resigns her Cabinet position (Adrian Mole and the Weapons of Mass Destruction). Further humiliation comes when her biography, Out of the Box, proves to be a literary flop, with only 12 copies sold at its much-publicised launch. (The book contains a list of 112 different lovers, and only 2 direct references to Adrian). She continues as MP for Ashby-de-la Zouch, although blackballed. She admits that she still loves Adrian, as he is the only person she feels she can talk to freely.
Community content is available under
CC-BY-SA
unless otherwise noted.