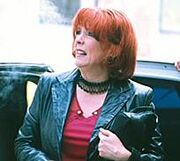 Pauline Mole nee Sugden (born 14th September 1944) is the mother of Rosie Mole and Adrian Mole and is the grandmother to William (Wole) Mole, Gracie Mole and Glenn Bott.
Pauline had an affair with Mr. Lucas and Martin Muffet.
She stated (while being on The Jeremy Kyle Show) that there is only 70% chance that George is Adrian's real father. 
Pauline smokes and drinks a lot, she is often unemployed. 
In The Prostrate Years she is married again to George Mole and lives next door to Adrian and his wife Daisy. She takes care of her granddaughter Gracie and makes sure that she wears her school uniform (even though nobody knows how exactly does she do it). She writes an autobiography called A girl named Shit in which she describes her tough childhood, but Adrian mentions that the book is filled with lies. 
In the eighties, Pauline became very close to her neighbor, Mr. Lucas. After a while they developed an affair and Pauline and George decided to separate.
After a few months she realized she was pregnant and later gave birth to a girl named Rosie. Who was Rosie's father was unknown (but discussed) until The Prostrate Years when Mr. Lucas, Pauline, Rosie and George Mole decided to go on The Jeremy Kyle Show to find the DNA results. The results showed that Rosie's real father was in fact Mr. Lucas, and after that Pauline feels embarrassed because of her decision of going into that show in first place. 
Even though Adrian mentions several times that he belives his mother doesn't love him like she should, she shows that she does care. When Adrian had the cancer she drove him every day to his treatment to hospital and took care of his daughter Gracie when she was needed. 
Community content is available under
CC-BY-SA
unless otherwise noted.